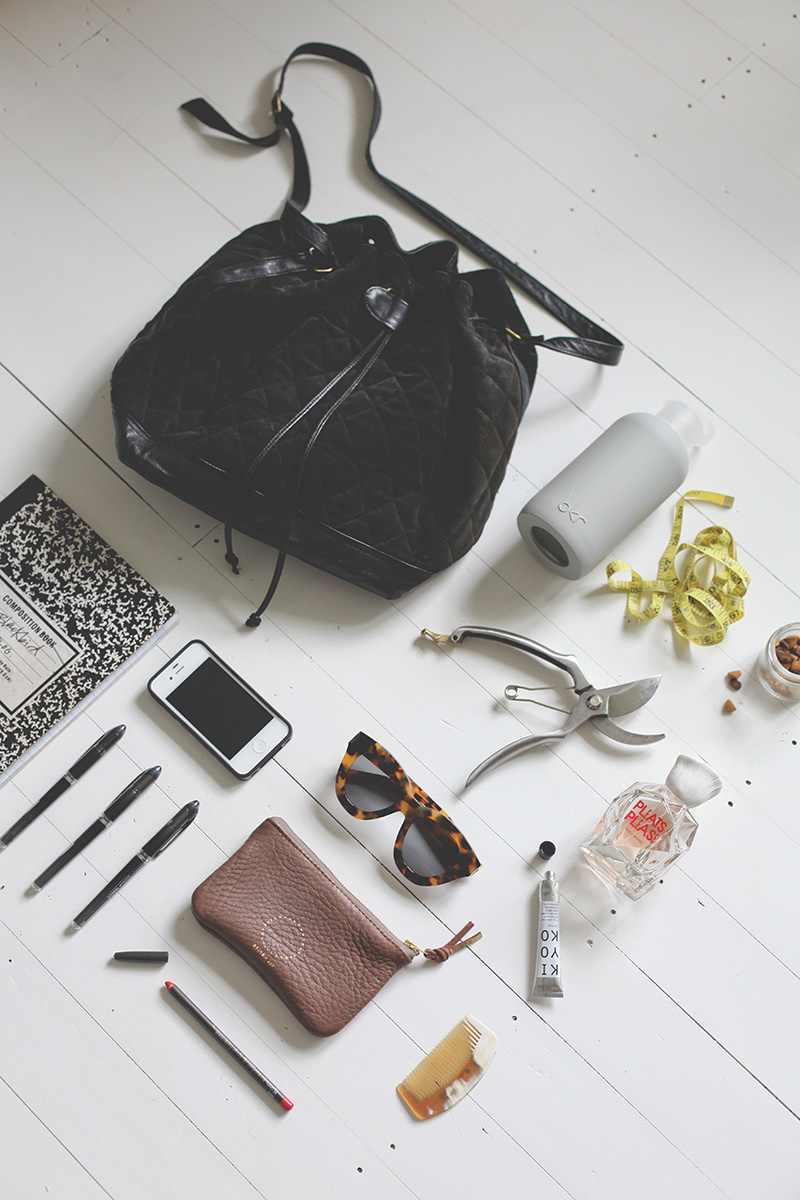 Carrying on from my bathroom essentials list, I thought I would share my day to day, on the go, handbag essentials list!
BKR water bottle | I am a thirsty gal, so when I am about and about, or even at home, my BKR is full and handy. And it's Glass + silicone, BPA-free, phthalate-free and pretty cute. Win win win. 
Tape Measure | I use this constantly! Whether it's for furniture or fabric, it is the handiest thing.
Doggy Treats | Either in my bag or my pocket. The glamour of dog ownership.
Sophie Conran Secateurs | How else am I supposed to wrangle that roadside goodness?
Issey Miyake Perfume | Although I am on the hunt for a new scent ( I am thinking a little more grown up and a little less girly, any suggestions? ) this has been my staple.
Composition Book | I stocked up on these last time we were in America, they are my all time fav for jotting, scribbling and list making. 
Uniball Pens | At least three, I have counted up to 12 at one point in time. Seriously though, I am a bit of a pen snob. Don't you try to make me use you bulk pack ball points reception lady.
Iphone | Where would I be without you. Plus my super cute case from the babes at Bread & Butter Letter to keep it safe and stylish.
Karen Walker Anytimes | The queen of eyewear. The perfect " I left the house without mascara and I look suuuuper tired" shades.
Georgia Jay Bebe purse | Keeps all the cards in and looks pretty whilst doing it. Super soft leather and the perfect shade of mushroom.
M.A.C Lip Pencil | I use this as a lipstick, for those running out the door, last minute touch ups. pairs perfectly with the " I left the house without mascara and I look suuuuper tired" shades.
Kiyoko Lip Balm | The best balm I have found. Natural, nourishing and smells delicious  plus perfect packaging.
Buffalo Comb | There seems to be a trend here that I don't actually do my hair or make up until I have left this house. Well that being said, this puppy helps tame the mane just right.
What are you handbag staples?
Until next time,