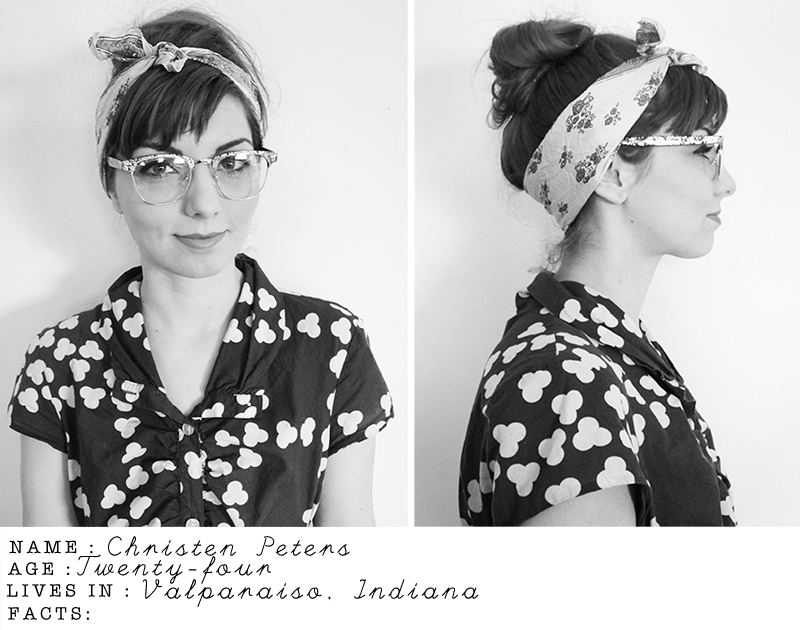 I am beyond excited to introduce my first " HELLO STRANGER ", This will be a reaccuring post, introducing people that inspire me ( and I hope inspire you too! ) and that I also think are pretty neat.
Christen is a dear friend of mine, Living in America, But married to a good kiwi boy. We had the pleasure of a short but sweet time with them in the summer when they were visiting from the States. She writes and posts lovely outfits, DIY's and more on her cracker of a blog Two Happy Hearts, always on my daily read list. And if that is not enough, she also makes beautiful, vintage inspired clothing with her adorable twin Kylie for their label Midnight & Dawn. Sheesh.
What do you do 9-5? Well, I usually wake up at 4AM to do my coffee shop gig. I make (and drink!) coffee all day, so I can't really complain about early mornings! Plus, I'm a morning person by nature so I can function surprisingly well at 4AM.
What do you do with the other hours of the day? Once I am home from work, I usually focus on creative endeavors. Whether it's styling outfits for a blog post, sewing clothes, taking photos, or doing DIY projects…I've usually got some corner of my apartment in shambles while I work on something fun.
What did you want to be when you grew up? I'm pretty sure, like most girls, I wanted to be a ballerina. But since I am not coordinated/graceful in the slightest, that didn't really work out. And then I wanted to be a veterinarian for a while, which I still think would be a pretty wonderful job!
What are your favourite online places?
I am constantly on Pinterest! I've been looking up recipes like crazy lately, and Pinterest is the place to find tons of delicious dishes. 
What are your favourite real life places? I love the South Island of New Zealand. My husband and I did a two week camping trip down there, and it was just breathtaking! Milford Sound is probably my favourite place on Earth.
What are the tunes you are listening to? I've been listening to a lot of Tegan & Sara, Best Coast, Tilly and the Wall, and Lana Del Rey lately.
Who are your influences? I am very influenced by 50s/60s fashion. I love all the classic beauties like Marilyn Monroe, Audrey Hepburn, and Edie Sedgwick. I don't know how you couldn't draw inspiration from such women!
Until next time.